The Golden State Warriors will host the Boston Celtics Monday night in Game Five of the 2022 NBA Finals.
The Warriors tied the series up 2-2 in Boston Friday night on the back of a historic outing from Stephen Curry, who ended the night with 43 points, ten rebounds, four assists, and seven three-pointers. Jayson Tatum struggled again for the home team, making it three out of four games that he has failed to meet expectations in this series.
The winner of game five will put the opposing team on do-or-die mode for the rest of the series, with Game Six heading back to Boston.
The Warriors: Back in control?
Golden State has a plethora of championship experience, but Game Four was ultimately decided by many different factors; first, Curry had his best Finals game ever and quelled word of mouth that he was missing a defining postseason moment.
Second, Andrew Wiggins, who many thoughts was overvalued and had never reached a Finals before, played an exceptional game on both ends and continued to show that he just might be the Warriors' second-most important player. Third, Klay Thompson and Draymond Green, two of the faces of GWS's dynasty, were replaced in importance by Jordan Poole and Kevon Looney.
Golden State tends to play very well at home but will need to be on its toes against a Boston team that inexplicably plays much better on the road than it does in TD Garden. This includes diving for every loose ball, making the hustle plays, and executing the fundamentals.
Curry's injured foot did not seem to plague him on Friday, but he certainly expended a lot of energy and will be under tremendous defensive pressure from the onset. It will be largely on him to deliver a victory, regardless of what his teammates do.
The Celtics: Got them where they want them?
Boston would have preferred to leave home with a 3-1 advantage, but they have proven to be best as the hunters as opposed to the hunted; they have also not lost consecutive games yet this entire postseason, and Tatum especially tends to step up after a loss.
The Celtics' main source of concern should be that even with great team efforts, they can still lose to a Warriors team that has much less depth than they do. Expect different defensive coverages on Curry, specifically in the pick-and-roll and with the big dropping off less.
Boston really needs a win in game five because of its inexperience on the big stage because if they go down 3-2, it is very hard to see them forging a path out of that hole— they will need one of Jaylen Brown or Tatum to step up and help carry them over the line Monday.
The Betting Numbers
The Warriors are a -3.5 (-112) favorite in Game Five, while the Celtics are a +3.5 (-108) underdog; Golden State is also -175 on the moneyline to Boston's +140.
The points total has been set at 212.5 with (-110) odd on the over and under.
For more NBA betting picks and previews, check out our picks page.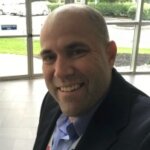 Ryan has been one of the leading sports business & iGaming professionals for over 15 years. He started as a freelance writer and now operates one of the top sports content agencies around, Knup Solutions. He has literally written 10,000 plus sports and betting related articles across the web.
Sports Network:
sports20.com, usawager.com, knupsports.com, baseballspotlight.com, basketballarticles.com, betdecider.com, njsportsbookreview.com, dunkelindex.com, sportspub.com, oddschoice.com