NJ Sportsbook Website Review
Golden Nugget Casino in Atlantic City is not only home to its licensed partner BetAmerica; it also has a top-notch sportsbook of its own.
You can do your wagering both in person at the Casino itself or online via your laptop or on your smart phone using either an Android or an iOS mobile app
As with all New Jersey sportsbooks, online betting is its major draw-card. It especially came in handy during the Coronavirus pandemic when all US Casinos were forced to shut up their brick-and-motor shops.
Although this is essentially a sportsbook review, it would be remiss of the author not to first take a brief look at both the large casino resort complex housing it and the resort's history.Bet Now at Golden Nugget Casino
The resort complex
The resort sits on a 14.6 acre property. It contains a 74,252 sq ft casino and 717 guest rooms. It has seven restaurants; a nightclub; a 462-seat theater and a 16,920 sq ft recreation deck with a health spa.
Its ball room seats 2,000 and its theatre 462. It also offers outdoor and indoor pools, hot tubs, cabanas, tennis and basketball courts, and jogging track.
It has a nine-story parking garage at the complex with direct walk-in access to the casino and a 640-slip Frank Farley Marina it manages for the New Jersey Division of Parks and Forestry.
With 711 games the Golden Nugget has one of the biggest online gaming menus in the US. Along with its 658 slots, it has poker, roulette, baccarat, blackjack and offers the option of playing against live dealers in its table games
Two big advantages for its patrons it that it's online Casino and sportsbook are just a click away on its website's home page and that you can have a shared wallet for the two sites
The Resort History
Hilton Hotels built the Casino, but were denied a gambling license because of alleged ties to organized crime. It was sold to Donald Trump and he opened it in 1985 as the Trump Castle
Trump Castle ran into financial trouble in May 1991 and after five years of wheeling and dealing to save it from bankruptcy, it was eventually sold to his new publically-traded company, Trump Hotels and Casino Resorts.
The Casino's name was changed to Trump Marina in 1997.
In 2009 when Atlantic City casino values were plummeting and bondholders had taken control of the now bankrupt Trump Entertainment Resorts, Trump Marina was sold to Landry's Incorporated, owned by billionaire Tilman Fertitta.
Landry's then spent $150 million in renovating the resort. The upgrade was completed in 2012 when some new restaurants, clubs and an indoor pool were also opened.
Bet Now at Golden Nugget Casino
MAIN SPORTSBOOK REVIEW
I liked the Golden Nugget's Sportsbook home page from the moment I opened it. Clean, neat, clear and colorful, it had an immediate come-and-play-me look about it.
Perhaps the major feature of its home page interface is its ability to present a wealth of information in a way that prevents it from being cluttered and confusing
Buttons for things like Promotions , Results, Live Betting and the different type of odds available (e.g. American or fractional), which are so hard to find on too many other sportsbooks, are clearly lined up across the upper end of the page.
You can't miss them. Nor can you miss the buttons above them that will take you to the Golden Nugget online Casino or directly to one of its live dealers. Here, alongside the log-in button, you'll also find key buttons marked 'Banking Info' and 'Help Centre '.
An especially welcome feature was the search button which you'll find is set at the very top of the column featuring the sports menu. It can save so much time when you're searching for a specific sport, an event or a person on which you wish to place a wager.
Sportsbook menu
Golden Nugget's sports menu, which traditionally runs down the left edge of the page, is topped by a line reading 'Golden Lines'. This is an ongoing daily promotion offering boosted odds on lines of mostly-futures bets on various major sports events.
Golden Nugget's sports menu is not the biggest in the business but it carries enough sports to satisfy most US punters.
All their favorite American specialty sports are there including NFL and College football, NBA and College basketball, MLB Baseball and NHL hockey.
Its Soccer from all around the world featuring hundreds of teams and thousands of betting markets gets the best treatment of the major international sports.
Others include golf, tennis, boxing, motor racing, cycling, MMA, cricket, Australian rules and both codes of rugby. During the pandemic the sportsbook has added eNascar its menu.
Some of the less populous sports like darts and table tennis are also included the latter, most likely, because it's one of the few sports anywhere in the world still being contested.
We should, perhaps, mention that this review was done during the US lockdown and the Coronavirus pandemic and will certainly have influenced Golden Nugget's choice of sports to bet on.
For instance Russian table tennis, clearly alive and well, featured heavily on the site's Live Betting list. The only other live in-play bets it had on offer on March 17, 2020, was Taiwanese basketball and soccer in Belarus and Nicaragua.
If then you were going to place a bet, you would simply have had to click on the event and it would have inserted itself in the betting ticket leaving you to do no more than fill in the amount of the bet.
The ticket, near the top right-hand corner of the home page, then calculates how much you could win
Bet Now at Golden Nugget Casino
Types of bets you can make
From money line, spread and totals bets to futures, prop, teaser, Round Robin and parlay bets; all are available on the Golden Nugget sportsbook.
However with so little sport being played globally at the time of this review, futures and prop bets made up the bulk of their betting markets.
No sportsbook of worth these days can afford to be without live, in-play, betting and the Golden Nugget is clearly aware of it. Even with a limited no of sports events taking place, its live wagering options took up a large chunk in the centre of its home page.
Golden Nugget is also keenly aware of the growing popularity of parlay betting where the risk is high but you get the chance to make the largest returns from the smallest of bets.
'Parley boost' which is included with 'How to Bet' and 'Betting Rules' under the Features headline below the sports menu is the only betting type mentioned on that list.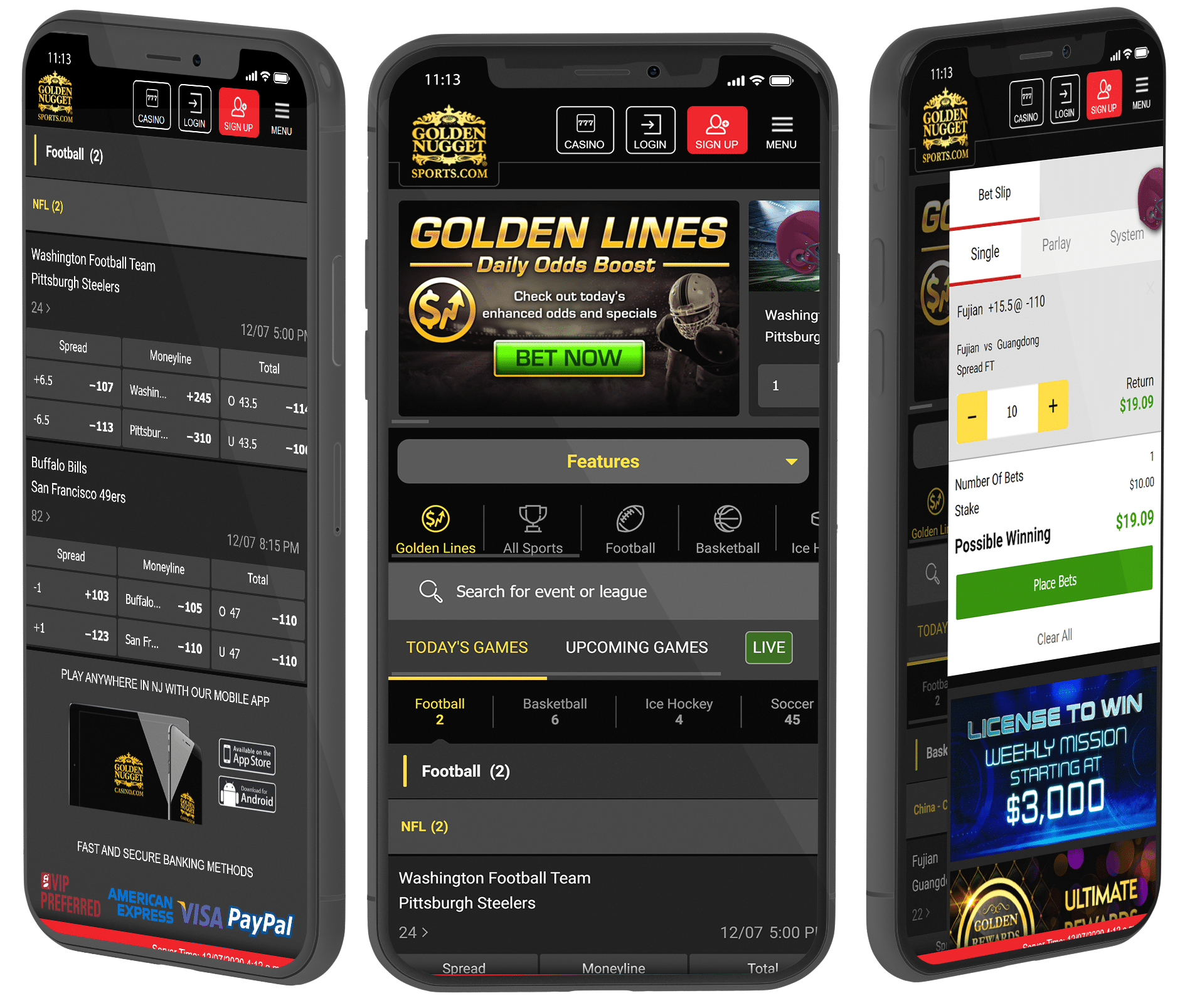 Bonuses and promotions:
The Golden Nugget sportsbook itself has some exclusive promotions, but a number other promotions are available to both the Casino's Sportsbook punters and its slots and table gamers.
The exclusive sportsbook specials include:
'A risk-free bet of up to $100' – If your first bet wins, you win! If you lose, you get your money back as a Free Bet.
'Golden Lines' bets – This is an exciting way to boost your odds. Each day you are offered a selection of bets on various events that boost your odds.
'Parlay Boost' – As soon as you pick three qualifying parlay selections you start to receive the Boost. Adding more selections will increase the Boost!
The sportsbook and Casino's joint promotions include the following:
'License to win' – This is a race against time to build points and earn entries to weekly $3,000 giveaways.
'The $60,000 Heist' – Opt in through available bonuses, make a deposit of $20 or more and earn leader board points via your wagers in a month long race. The leader board winner will get $10,000 from the $60,000 prize pool. In addition, the Leader board winner in an extended year long race can drive away in a Bentley Continental GT with a year's lease.
'Super Sidekick' – refer a friend and when they qualify for hero status, you get $500 in instant bonuses.
'Play+' – get a $10 instant bonus after enrolling and paying your first deposit.
Note: Like too many New Jersey sportsbooks, the Golden Nugget Casino Sportsbook has wagering requirements. We suggest you read the fine print and find out all about them before claiming any bonuses. Otherwise it could cost you plenty.
For instance; if you sign up for the Casino Welcome Bonus to get a free matching amount with your opening bet of anything between $30 and $1000, you will have to make wagers totaling 10 times these amounts before you can withdraw any winnings made from them. (I.e. $30 x 10 =$300 and $1000 x 10 = $10,000)
Help Centre
A click on the 'Help Centre' button at the top of the home page and it will take you to a very impressive customer care section that among other things:
Tells you how to download either an iOS Apple or Android App
Gives you 24/7 live chat, telephonic ([855 837-1010])or email (support@goldennuggetcasino.com) support if you need help
And it gives you an extensive FAQ on virtually everything you need to know about the site.
For example, it explains the various types of bets and how you can make them.
It tells you how to make deposits and withdrawals and how to claim bonuses.
It also explains how its promotions work and what a wagering requirement is – and that's only a part of it. There is a whole lot more. It really is an excellent feature
Deposits and Withdrawals
As one of Atlantic City's leading Casinos, the Golden Nugget was taking in deposits and paying withdrawals online long before the sports betting prohibition ended in May, 2018. In other words it is well versed in the safe, secure and satisfactory transfer of funds.
These were their major payment options it was offering in March 2020.
For deposits you were able to use Masters Card, Visa or American Express credit or debit cards.
Bank transfers or payments via Pay Pal, Pay+, ACH by VIP Preferred and a Pay-Near-Me 7-Eleven were also acceptable.
So too were cash payments at a cashier cage at the Golden Nugget Casino in Atlantic City
Credit cards could not be used to withdraw your winnings. However, you could do it with bank transfers, Pay Pal (if you used them to make your deposit) ACH by VIP Preferred, Pay+ or from a Casino cashiers cage.
You should note that a bank transfer is the slowest method of payment and can take as long as five days.
Summing-up:
The Golden Nugget's sportsbook/casino gaming site has clearly been designed to make it as easy as possible to select and place online sports wagers.
For that is exactly what it has done – and yes, while retaining all the key bells and whistles of a top-notch site and also keeping its web pages bright, alive and attractive.
Newbies especially will thrive on its clear and concise interface and extremely helpful FAQ.
It is going to be difficult to make a fair judgment on the quality and depth of its betting markets so long as so much sport is under lock and key due to the coronavirus pandemic. And its sports menu is not as long as some of its rivals, but in general its betting setup seems to be pretty sound.
It's not short of Bonus offers and weekly promotions either, although, as with all these things in all sportsbooks, you should know exactly what you are doing before you claim them.
Overall, I liked its friendly mix of simplicity and sophistication very much and do not hesitate to recommend giving the Golden Nugget Casino sportsbook a try – you first-timers especially.
Its casino is looked upon as one of the best in New Jersey. There is no reason why its sportsbook cannot follow suit.
Match Up Bonus Up To $1,500 with first deposit