There has been a lack of sports action across the country because of the COVID-19 pandemic. This has led sports fans searching for any entertainment to wager on. NASCAR might have the leg up on every other professional sports league because of the iRacing series they have created.
Nevada and New Jersey have recently approved betting for NASCAR iRacing. Wagering is limited to the 2020 eNASCAR iRacing Pro Invitational Series, which includes actual NASCAR drivers. The eNASCAR Coca-Cola Racing Series is not permitted, which is made up of the top simulation racers.
Video Game For Drivers
iRacing is a video game set-up for these drivers. They are in their own homes using these resources to continue to race against each other. Some of these drivers have simple PC set-ups, while others have created custom cockpit rigs that cost tens of thousands of dollars. Real racetracks have been laser-scanned for detail, and the game is programmed so that the cars handle like the real thing.
Nevada is categorizing this as an "other event." This is different from a professional sport or event sanctioned by a governing body. On the other hand, New Jersey is placing it within the "esports" category.
This could start the process of allowing more esports wagering in New Jersey. This NASCAR series was the first betting approved esports series in the state. In a time where no other activity in sports is allowed, this is a big opportunity for their growth.
Rahul Sood, CEO of esports betting operator Unikrn, discussed with Legal Sports Report about how he believes more esports will be coming to the country. He said, "Regulators are willing to move quickly right now. I've been speaking to a lot of them, and I know for sure they want us to go live as soon as possible."
Growing Genre
Until there is sports action again, esports might remain an outlet that continues to grow. The most-watched sporting events several weeks ago were the WWE, the Beverly Hills Dog Show, followed by the NASCAR iRacing Series.
"Until we have cars back on track, the entire NASCAR community has aligned to provide our passionate fans with a unique, fun, and competitive experience on race day," said Ben Kennedy, NASCAR's vice president of racing development. "Our long-time partners at iRacing offer an incredible product, and we are excited to see how many of our best drivers will stack up in the virtual domain of competitive racing."
There have already been three races, with the winners being Denny Hamlin, Timmy Hill, and William Byron. Here are the next three races on the schedule:
NASCAR iRacing at Richmond Raceway
Date: Sunday, April 19
Start Time: TBD
Virtual Location: Richmond Raceway
TV: FOX, FS1
Streaming: Fox Sports App
NASCAR iRacing at Talladega Superspeedway
Date: Sunday, April 26
Start Time: TBD
Virtual Location: Talladega Superspeedway
TV: FOX, FS1
Streaming: Fox Sports App
NASCAR iRacing at Dover International Speedway
Date: Sunday, May 3
Start Time: TBD
Virtual Location: Dover International Speedway
TV: FOX, FS1
Streaming: Fox Sports App
Many states, including New Jersey, have several online betting sites that include NASCAR. DraftKings, FanDuel, PointsBet, Unibet, and William Hill all currently allow NASCAR wagering.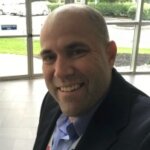 Ryan has been one of the leading sports business & iGaming professionals for over 15 years. He started as a freelance writer and now operates one of the top sports content agencies around, Knup Solutions. He has literally written 10,000 plus sports and betting related articles across the web.
Sports Network:
sports20.com, usawager.com, knupsports.com, baseballspotlight.com, basketballarticles.com, betdecider.com, njsportsbookreview.com, dunkelindex.com, sportspub.com, oddschoice.com