The Golden State Warriors are still a juggernaut NBA franchise, but this collection of players has seen a different level of adversity than the ones in the mid-2010s did.
Entering Game 2 of the NBA Finals following a disappointing loss in the opener at home hasn't impacted the perception of the Warriors. Golden State is a 4.5-point favorite to even the series and -182 on the money line.
This Warriors team is different because this collection of players will be grateful to be in the finals. Following a run of three championships in five years, Golden State sent the two seasons previous to this one out of the playoffs entirely.
That said, experience alone won't be enough to get even with the Boston Celtics. Here's a look at what should impact Game 2.
Golden State's cavalry is nearly all back
Otto Porter Jr. and Andre Iguodala returned for Game 1 for Golden State. Iguodala scored seven points and handed out three assists in 12 minutes of play. Porter finished with 12 points and four rebounds in 24 minutes of play. Gary Payton II sat on the back with his elbow wrapped in the opener.
Payton, who was in injured in Game 2 of the Memphis series, is hoping to be available in Game 2. While Payton had hoped to see some time in the opener, coach Steve Kerr and training staff didn't think he was ready for extended minutes yet.
Tatum ready to get back on the horse
Celtics forward Jayson Tatum's struggles in Game 1 will likely be lost to history if Boston goes on to win the series. Tatum shot 3-of-17 from the field but was able to contribute in other ways. In addition to scoring 12 points, Tatum handed out 13 assists, which was a high fr him in this postseason.
Defense wins Game 1
If Boston was going to upset Golden State in this series, many observers felt it was going to be behind their defense, which was ranked No. 1 in the league. The Celtics would save their best performance of the series opener for the fourth quarter. Golden State would be limited to 16 points as Boston put up 40 to run away with the game.
The Warriors were limited to 44.3 percent shooting from the field, which was well below Boston's 50.6 percent. The Celtics also were the better 3-point shooting team, knocking down 51.2 percent of their attempts compared with Golden State's 42.2 percent.
Ready to rotate
Golden State was one of the first teams to be steadfast in players' minutes to keep them healthy. Warriors star guard, who scored a game-high 36 points, is open to changing his workload if that is what's necessary. Curry, who set a finals record by making six 3-pointers, played 38 minutes in Game 1.
However, with how Golden State's offense suffered with him on the bench in the fourth quarter, Curry said in a postgame press conference that he would be willing to play more than 40 minutes. The Warriors may need to take him up on that.
Prediction
The Celtics ended up pulling out a comfortable road victory after facing a double-digit deficit after the third quarter. Boston did have a lot of things go its way. The Celtics saw Al Horford make a career-high six 3-pointers and finished with 26 points.
Golden State, which also has a strong defense, will likely be able to make several adjustments to how it defends the Celtics. What will be the key for the Warriors is how they adjust their offense. Golden State needed to be more consistent.
Expect the Warriors to bounce back and win. However, Boston should cover the 4.5-point spread in what will be a tight game.
For more NBA betting picks and previews, check out our picks page.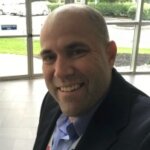 Ryan has been one of the leading sports business & iGaming professionals for over 15 years. He started as a freelance writer and now operates one of the top sports content agencies around, Knup Solutions. He has literally written 10,000 plus sports and betting related articles across the web.
Sports Network:
sports20.com, usawager.com, knupsports.com, baseballspotlight.com, basketballarticles.com, betdecider.com, njsportsbookreview.com, dunkelindex.com, sportspub.com, oddschoice.com