Milwaukee Bucks Betting Preview: Another Playoff Problem?
The Milwaukee Bucks have had problems in recent years with coming through against other elite teams in the postseason. And Game 1 brought back flashbacks of that criticism, as the Bucks were unable to take advantage of a golden opportunity against a Nets team that was without one of its big three. In the opening game of this series, it was their three-point shooting that betrayed the Bucks.
Milwaukee shot just 20% from three-point range in Saturday's series-opening contest, which rendered the Bucks unable to dig out of the deficit they found themselves in. Even with a strong performance from Antetokounmpo, the Bucks' shooters held them back. And without Donte DiVincenzo available for this series, the inconsistent shooting of the Bucks could be a recurring theme in this series.
While the attention placed on injuries in this series will undoubtedly be on James Harden, the loss of DiVincenzo could be more significant for the Bucks. Even without Harden, the Nets still have Kevin Durant and Kyrie Irving to carry the scoring load. But the Bucks don't have many players to replicate what DiVincenzo brings to their team.
Brooklyn Nets Betting Preview: Ready For Home Cooking
The Brooklyn Nets have won four straight games at home during this postseason, taking three against the Boston Celtics at home before claiming the first home game against the Bucks. In Game 1 against Milwaukee, it was an unlikely source that brought some much-needed energy for the Nets. Blake Griffin was the spark plug for a Brooklyn team that used his hustle and perimeter shooting to pull away in the second half.
In Game 2, the Nets are going to need to rely less on Griffin and more on their stars in Durant and Irving. Irving especially will need to be better in Game 2, as he shot a subpar 11-26 from the field against the Bucks on Saturday. If he can be more efficient in Game 2, there might not be a chance for Milwaukee to avoid going down 0-2 to the NBA Finals favorites from Brooklyn.
Milwaukee and Brooklyn Odds and Lines
DraftKings Sportsbook has the Brooklyn Nets as a 1.5-point favorite against the Milwaukee Bucks heading into this matchup.
Free Play of the Night
This line is tighter than it was for Game 1 when the Nets were favored by 4 going in. Even without Harden, the Nets' form at home should be enough to get the job done in this game. The Nets -1.5 is the best play for this contest.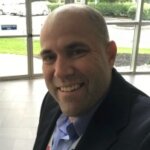 Ryan has been one of the leading sports business & iGaming professionals for over 15 years. He started as a freelance writer and now operates one of the top sports content agencies around, Knup Solutions. He has literally written 10,000 plus sports and betting related articles across the web.
Sports Network:
sports20.com, usawager.com, knupsports.com, baseballspotlight.com, basketballarticles.com, betdecider.com, njsportsbookreview.com, dunkelindex.com, sportspub.com, oddschoice.com